14 Feb 2003
|

Maggie Black - The no-nonsense guide to international development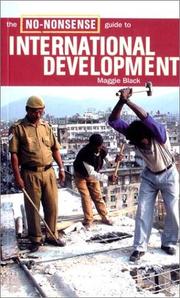 Although the book, which is part of a series of no-nonense guides, is utterly compact and Black could write a bit more accessible, the book gives a good overview of the state of international developent and its change of concepts over the past 50 years, since the 'race' was first initiated by Harry Truman with his vision of a 'Marshall Plan for Africa'.

Over the past 50 years 'development', at least in theory, has changed its focus from macro-economic change, for example building dams or exploiting natural resources for obtaining foreign currency to a setup where 'small is beautiful. Still, however, many governmental organizations still only pay lip-service to this shift of focus and only NGOs, who initiated this change are moving in this direction of micro-economics.

Black proves that true development, where the position of 'the poor' is really changed for the better, requires a small scale process which focusses on the necessary changes that empower the individual. Informal and traditional economies can not be replaced by 'modern', western style economies. They need to be integrated in the global picture, with respect to people's traditional and personal views and methods.

Development is an inherently political process since to empower the individual, political structures in developing countries need to be changed. In the past, too often, funds spent on development more more often used to suppress the poor, not support them. Some 100 million people alone have been geographically displaced due to the building of dams in the past decades. These people were chased out of their natural habitat, they're own known way of survival (agriculture, hunting) taken away from them, and forced to work as laborors in an uncertain and new industrial market.

Another new aspect of development is ecological sustainability. Black points out that the country that uses 25% of the worlds yearly consumption of natural resources (with only 4% of the world's population) has signed virtually no global environmental or human rights agreement. How can poorer countries be expected to uphold these agreements if the most prominent card-holder of western civilization, the big example of western style development, doesn't care?

Black shows that although globalist thinking, rolling out western models in developing countries has done more bad than good, the anti-globalist movement, in its current form, has no chance for survival: there is no clear leader, no common agenda, no basic manifest that unites all splinter groups operating under the banner of anti-globalism.

Still, it does parallel the only certainty gained from the development process of the past 50 years: needed change is social, political and small scale and each problem requires a unique solution that can not be scaled up and rolled out globally. There are no golden grand ideas in development and conventional, large scale development simply doesn't work.
Tagged with: development NGO