22 Dec 2011
|

Adam Hochschild - King Leopold's Ghost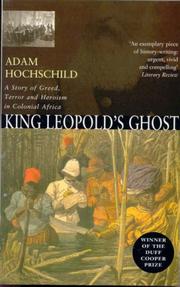 A history of The Congo, the DRC, as a colonial entity. Identified by the Belgian King Leopold II as the only viable area on the globe to claim as his own, in the middle of the 19th century, Leopold controlled the area, his private fiefdom, as a very malevolent dictator, under the guise of humanitarianism.
First providing the king with ample funds through the export of ivory, The Congo later became a huge source of rubber, extremely harsh working conditions, essentially sanctioned slavery, resulting in the deaths of perhaps 10 million Congolese.

Has an excellent review of Henry Morton Stanley's early years. Stanley, born John Rowlands, was abandoned by his mother and, after a few years with relatives, put in a British 'workhouse' at the age of six, before jumping on a ship at the age of 17, when he sailed to New Orleans, where he got off and slowly obtained the identity we know him for.
What's less known is Stanley acting as a proxy for Leopold after bumping into Livingstone. First, on the king's account, traveling from the east to west coast of Africa, effectively staking out a claim for the king's Congo and, afterwards, campaigning for the King's actions for most of Stanley's life.

Though the book somewhat drags on, at times, it's a surprisingly easy, and often grueling, but eye opening, read.

It's amazing to realise to what extent Leopold's inhuman control of his territory, over 100 years ago, still has repercussions today. After The Congo was handed over to the Belgian state and, in the 1960s, gained its independence, it was Mobutu who ended up with control of the country, having come of age under harsh conditions, watered down versions of those deployed under the King.
Mobutu himself copied Leopold's style of government, deploying not only inhuman tactics, but ruled the country as his own personal source of money.
Of course it was that behavior which sparked Africa's world war, a game changer for several African leaders, not the least for Museveni, Kagame and Kabila.
Tagged with: colonialism Congo DRC exploration Rwanda Uganda war