08 Dec 2011
|

Clive Holt - At thy call we did not falter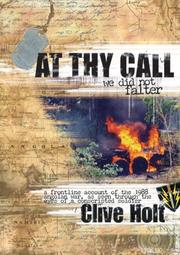 There's currently a rekindled interest, amongst mostly the white population in South Africa, to relive the war in Angola which South Africa, supporting rebel forces in the south of Angola, fought against the Angolan government forces, supported by Cuba and the Soviet Union. As wars go, the skirmishes were relatively minor, though the actual war raged, on and off, for some 20 years. South Africa lost very few men, though the Angolan side lost many more. However, at the time, the fighting in Angola was almost completely done covertly, almost nothing leaking into the South African press, let alone the international media.
South Africa, at the time still an apartheid state and with Namibia, then South West Africa, still a protectorate, was afraid of the communists creeping up to their doorstep and perhaps even managing to hook up with the communist anti-apartheid forces in South Africa. With Namibia being so sparsely populated and hard to defend, the South African government effectively preemptively went into Angola to prevent that from happening. Successfully.

At thy call we did not falter are the memoirs of a, then, 19 year old solder being posted to the border. Competently, but not engagingly, written, it is primarily a way of coming to terms, for the author, with his experiences and memories. What Holt experienced ain't no walk in the park, but, by now, you'd have to have lived in a cave for your whole life to not have read or seen a much more painful account of someone having suffered the horrors of war.

Besides Holt's personal reasons for writing the book, the breadth of information available on the war in Angola is very limited. Considering that, Holt's account adds some value, but also can't deliver in the area which I would have found much more interesting; that is, the bigger picture surrounding the conflict.
Tagged with: Angola conflict Cuba Namibia South Africa Soviet Union war