16 Jan 2011
|

Simon Sebag Montefiore - Stalin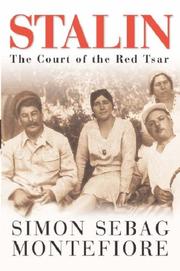 The sub title of the book is 'The court of the red tsar' and although Stalin is indeed the central figure, the book is indeed as much about those around him as it is about the man himself.
What's excellent is that Montefiore annihilates the often used adage that Stalin was one big enigma. Partially due to archives the Kremlin recently opened up (the book was published in 2004) and because of Montefiore's more than extensive research, the author shows that Stalin not only had a very human, though perhaps perverted, side, but that for years, roughly until the mid thirties, he was not the totalitarian dictator he was later known as, slowly increasing his reach and power, but also often having to back paddle and apologize to his comrades.

Montefiore's account is highly readable though the many players sometimes create a hard to penetrate veil over the many details which are strung together.
The, still shocking, retelling of The Terror, Montefiore aptly demonstrating the randomness of the trials, deportations and executions, clearly shows both Stalin as the lead orchestrator and his henchmen as his willing executioners, at times becomes a bit too much to sit through for the extensive list of characters that parade by.

One thing that strikes me, particularly after having recently read a biography on Mao, is that at a time when the future outcome of what would be the Soviet Union was in no way cast in stone, the politburo's, or Stalin's, methods were very similar to what Mao decreed only a few decades later.
This, specifically during the 1930s, when it became clear that the peasants, specifically the millions who died in the Ukraine, were the 'enemy' of the socialist order which needed to be established.
In the end, the Soviet Union, because it was more developed, more industrialized, than China, managed to come out on top without the horrendously immense bloodletting which China endured, 'only' suffering immense bloodletting.

It's accepted that the Soviet Union's, particularly Stalin's, stubbornness following its incompetence was the primary reason for Germany losing the war, the Germans having to fight a war on two fronts for too long, the Soviet Union using its people as cannon fodder (and no doubt inspiring Mao to assume he could win any war based on numbers alone).
To illustrate this, the Soviet Union, in the first three weeks of the war, lost 2 million men. Think about that.

+ Stalin's parents married when his mom was 12.

+ Stalin 's left arm was shorter than his right.

+ Montefiore describes one of the doctors at Stalin's deathbed as Brobdingnagian, which derives from Gulliver's Travels and simply means 'huge'. Was Montefiore showing of his linguistic knowledge?

+ Montefiore is a distant relative of Gwyneth Paltrow.

Tagged with: China Germany Russia second world war Soviet Union Stalin war