23 Sep 2006
|

Tom Reiss - The Orientalist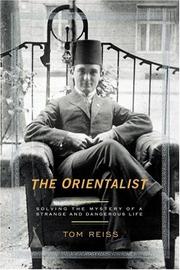 A few years ago, I was given the novel Ali and Nino by someone working at a client of mine. The book, on an 'impossible' love affair between a muslim boy and a christian girl, set in pre-revolution (that is, pre-Russian revolution) Baku in Azarbaijan, is an amazing masterpiece. The author, then listed as Kurban Said, was a bit of a mystery, as it was quite unclear who the person actually was, the assumption being that he was a Russian Jew, originally from Baku, who had fled from that very revolution, to Germany. Hardly an improvement, at the time, for a jew.
More recently, I read Kurban Said's other novel, The girl from the Golden Horn, and although this one was less impressive, it still had some very good moments. As 'my' copy of Ali and Nino was published in the 1970s, this book had slightly more info on the author, actually saying that 'Kurban Said' was a pen name.

Reiss, fascinated by the book Ali and Nino, during a trip to the Caucasus a few years ago and a Jew himself, was captivated by the mysteries surrounding the book's author and ended up excavating related information and talking to relevant individuals for several years, before coming up with the definitive answer as to who the man, Kurban Said, Essad Bay, Lev Nussimbaum, was: A jewish refugee from Azarbaijan, who, after a spectacular flight through central Asia, running from the Bolsheviks, returned to Baku, only to leave once more, with his father, for Constantinople and, later, Paris, Berlin and Vienna, briefly staying in the US, to end up in the Italian coastal town of Positano, where he died from a rare and incurable disease.
Nussimbaum's story is certainly tragic but also amazing, reading like an adventure novel itself, in part because of his extreme genius as an author, penning a very wide range of books, including biographies on Stalin, Lenin and Czar Nicholas II and much more. But also because during his short lifetime, he died in his 30s, he was in contact or even close friends with a whole laundry list of important social and historical figures of his age. In fact, Reiss unearthed so much information related to Nussimbaum, that it's surprising his personage was surrounded by so much mystery for so long.

I can only wait for Nussimbaum's other works to be republished as his style of writing is immersive, pleasant and accessible.

The parts of 'The Orientalist' that are nicest to read are the ones that deal with Nussimbaum himself, or his experiences. However, Reiss also spends lots of time on describing the political situations of all the arena's Nussimbaum was affected by. Although not too uninteresting in itself, it makes this book into a bit of a history lesson where, occasionally, Reiss really goes too far, bordering on the verge of boring the reader.
Tagged with: Azerbaijan Baku Germany Turkey